About Administrators
Introduction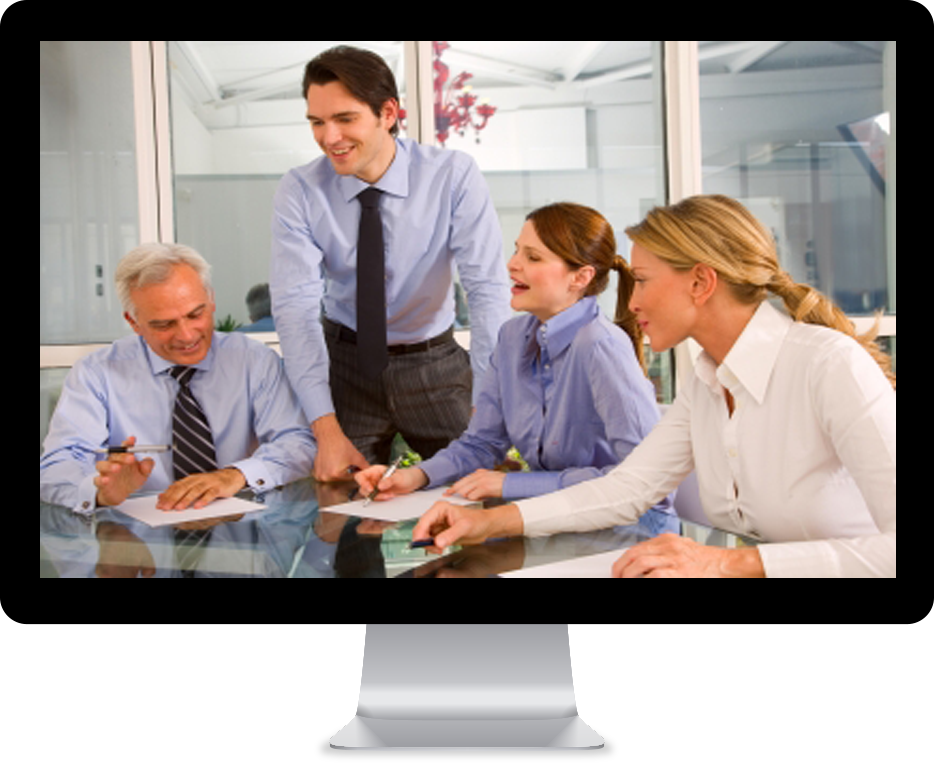 Administrators is a dynamic progressive company displaying a modern management culture with a professional history. We aim to help organizations make decisive improvements in their objectives and performance. This was and still is successfully achieved by our distinguished team of experts who work round-the-clock to provide clients with the needed professional business tools for great accomplishment.
Administrators offers an integrated coaching solution to both organizations, high-profile executives and regular team members to help them become better leaders, sharpen their business skills and better achieve their professional goals in life through accredited tools and techniques.
Administrators is highly specialized, client-oriented, professional human resource and security risk management firm. We provide support to organizations of all sizes and dynamics, in virtually every sector, identify client needs and objectives for human resource management, and implement the appropriate plan of action.
Administrators provides strategic consulting, application services, technology solutions and managed services to global companies. We help our customers achieve results by identifying mission critical issues and implementing innovative and customized solutions designed to generate revenue, reduce costs and access the right information at the right time.
We are a certified Level A&B from the British Psychological Society and we use the Psychometric tools for any activity, assessment & coaching approach. For additional info click here or go on top to Quick links - Assessment Tools.
Missions & Values
Mission: Our mission is to provide quality, professional, flexible administrative business and financial services to raise performance and deliver change, in order to maximize each client's competitive position by providing innovative solutions and value added services in a way that exceeds their quality. This, along with the organization's articulated values of integrity and maturity, unity and understanding, learning and sharing, and passion of excellence.
Values: We recognize the vital role of each member. Thus, we develop and maintain a total quality culture that facilitates each employee's drive for excellence.
Ethics: Fairness, integrity and respect guide all our actions.
Customer Focus: We create lasting relationships by understanding and delivering on customer needs.
Innovation: We constantly look for new ways to create value for our customers and encourage creativity and learning.
Performance: We keep our commitments, are proactive and results driven, and our success requires action in the appropriate time frame.
Teamwork: We value the success of the team above all and celebrate team and individual successes.
Culture & Philosophy
Customer comes first: At Administrators we are passionate about our customers. We work with you as you plan your actions from scratch and will continue to help you fine-tune your actions before implementation. We work closely with customers to convert insights into strategies, whose implementation will have a substantial positive impact on performance.
Quality Assurance: The high qualities of Administrators in business management ensure its position as a leader, and illustrates its dedication to striving to consistently exceed expectations.
High Performance: Administrators policies and procedures display our experience and ability to deliver excellent results ensuring customer retention and international competitiveness. Our people are exceptionally motivated and driven to succeed, whether working with one another, or with distributors, suppliers and channel partners. We help individuals align their competencies, career goals and development plans with the goals and strategies of the organization, ensuring that the right people are In the right place at the right.
Managerial Strategies
Strategies
Strategic management is that set of managerial decisions and actions that determines the long-run performance of a corporation.
It includes environmental scanning, strategy formulation, strategy implementation, evaluation and control.
The Business management cycle includes five crucial parts: Identify, Elaborate, Validate, Plan and Control.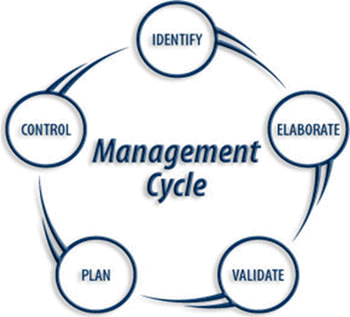 Operational Implementation
Administrators operational strategy is how to translate a plan into action. It is how it organizes itself to deliver its services to its chosen customers.
Administrators helps to implement practical solutions that measurably reduce costs while maintaining quality & service levels.
Administrators focuses on the organization, service, quality, efficiency, cost reduction, and change management elements of operational strategy.
A successful operational strategy creates new ways to structure business operations and economics for breakout results in top-line growth, earnings and valuation.
Administrators works with clients to develop the four ingredients essential for innovative operational strategies:
Global marketplace insight - examining global market forces to determine which you can use to drive operational innovation.
Intense competitive focus - helping companies identify their primary basis of competition, whether it's product leadership, cost leadership, or customer intimacy.
Clear innovation intent - working with your senior management to determine how you can use innovation to support your competitive strategy, whether through product innovation, operational innovation, or both.
End-to-end thinking - configuring the three core domains of operational strategy - the development chain, the supply chain, and the customer chain - to realize business goals and create new sources of advantage.
Management Re-engineering
Using the firm's current values and objectives, we help reorganize to accomplish streams of vital tasks in the fastest and most efficient manner possible.
Administrators helps to implement company structures that promote stellar services and partnering relationships.
Working in multinational and multilingual environments, we help companies adapt and translate corporate values, goals and objectives into realistically implemented programs, that allows management to achieve significant progress.
We help companies make substantial positive, measurable, future-oriented improvements in performance through management of the change process. Progress an accumulation of many small changes implemented by personnel at all levels of the organization, is directed towards service quality and customer satisfaction.
Customer Service Improvement
Administrators continually strive to generate deep insight into what drives value creation and competitive advantage in our customer's business.
Ours service conform to legal, regulatory and professional ethical standards. We value the trust of our clients and, as such, we want our clients to have a professional comfort level with our services delivery.
ADMINISTRATORS MANAGEMENT works with you to find simple and realistic solutions to the real-world problems we discover, helps with implementing the necessary changes and measures the results to confirm improvement.
Standards
They are benchmarks of best practice. They coherently bring together the outcomes, behaviors and knowledge required to deliver identified management functions into a tool.

We will constantly strive to achieve excellence and we will be committed to the following:

Perform every job to the best of our ability with quality and integrity in mind.
Demonstrate to our customers our ability through our appearance, our conduct, our conversation and our work.
We will remember that what is important is the satisfaction of the customer, not necessarily who is right and who is wrong.
Career
Human Resources
As the world's emerging technology integration leader, we're always looking for exceptionally bright and motivated people to join our team.
At Administrators, we believe in the power of ideas. And we believe that ideas thrive best in a team work culture. We work across borders, and without limits. Each individual is valued for the unique skills, experiences and perspective they bring. That's how we work at Administrators, and it's how ideas and people grow.
We promote a diverse, cooperative, and productive work environment. In our relationships with each other, we strive to be open, honest, and respectful in sharing our ideas and thoughts.
If you are looking for an opportunity to use your skills in new ways, in an environment that promotes free thinking, presents extreme challenges, and makes real impact, Administrators is the right place for you.
Contact
Ariss building, Mirna Chalouhi street
Sin El Fil - Lebanon
P. O. Box: 90 - 818 Jdeideh
Tel: (+961) 1 491 222 · Fax: (+961) 1 491 222